Nucleophilic Substitution Reactions
Organic Chemistry is a very important branch of chemistry and has lot of applications in the biological system. In order to understand the different chemical processes/ reactions taking place in the human body, a sound knowledge of Organic Chemistry is essential. Although students know the importance of Organic Chemistry, they have a phobia towards this subject, and very often learn it by rote memorization rather than by understanding. My project will make an attempt to develop material which would help students appreciate Organic Chemistry, and explain the few basic concepts which would help them develop a mastery towards the subject. 
This course module discusses the various mechanisms involved in nucleophilic substitution reactions. While students in India are introduced to this important class of reactions in their higher secondary school, nevertheless most of them are not aware of how the reaction proceeds, what will happen when they change the substrate, solvent and other parameters etc. The course aims to bridge this gap by making use of available OER, videos, web resources besides self -developed PPT and notes. Assessment includes both formative and summative assessments and we hope to achieve this by the quizzes/ MCQ's and assignments which are part of the module. This would also encourage problem solving among the students.
Project resources are available at:
Lakshmy Ravishankar
Dr Lakshmy Ravishankar is a Professor in the Department of Chemistry, V. G. Vaze College of Arts, Science & Commerce, Mumbai, India, which is affiliated to the University of Mumbai. Prof Lakshmy has 32 years of teaching experience. She finds students have a problem learning Organic Chemistry and most of them have a fear for the subject. She has tried to develop newer methods of teaching, making the teaching -learning process more participative and found some success, though there is still a long way to go.  Her interests include green synthesis, multicomponent reactions and chemistry education.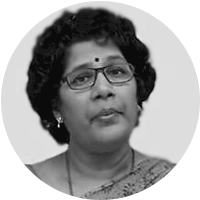 Madhavi Dharankar
Dr Madhavi Dharankar is an Associate Professor and Head of Department of Educational Technology at SNDT Women's University, India. Dr Madhavi is also SWAYAM Coordinator of SNDT Women's University. She obtained her PhD (Educational Communication) from Yashwantrao Chavan Maharashtra Open University on 'Comparative Study of Behavioruistic and Constructivitstic Techno-andragogical Approaches in special reference to Teacher Education'. She has contributed as subject matter expert in projects like NMEICT and ePG-Pathashala.