Becoming an Open Education Influencer – Student Advocacy for Open
The #OpenEdInfluencers at Nelson Mandela University began in 2018. The project launched a more focused aim to increase awareness, access, adoption and creation of Open at the institution, and beyond. Exploratory 2018 institutional support enabled the appointment and training of three Mandela University students in a 3 month 'bootcamp', each participant hoping to support change in education through direct action.
In 2018: 3 months of boot camp training, application to participate in OE4BW, application generated for OE Global 2019. Budget: under 3000 Euro. Members: 4.In 2018: 3 months of boot camp training, application to participate in OE4BW, application generated for OE Global 2019. Budget: under 3000 Euro. Members: 4.
In 2019: the first cohort expanded, people then left, people joined.several research and advocacy projects (see presentation), along with 1st annual funding allocation for staff (started at plus minus 4,000 Euro), then added Operational expenses and Open Colloquium (at year end, plus minus 20,000 Euro). Inclusion in OE4BW, success for OE Global, hosted Colloquium at Mandela Uni, shared research at committees.
In 2020: Open Education is part of the work roles and KPIs of 4 permanent staff members, the #OpenEdInfluencers have a budget to continue, continue the institutional policy development, share research with peers. Included in a 5 year national student success programme.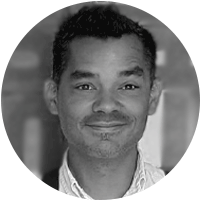 Gino Fransman
Gino Fransman is an Academic Development Professional based at Nelson Mandela University in South Africa, with previous experience at the University of the Western Cape and the University of South Africa. His Master's research explored youth experiences of and in the new South Africa, in particular negotiations of identity and cultural stereotypes through engagements with performance. His PhD research explores Open Education Resources (OER) for enhance teaching and learning in higher education. He is a member of the Global Open Educational Resources Graduate Network (GO-GN), and an energetic advocate for Open. Gino has experience in managing extended university degree programmes and projects, youth development, and is a creative active across many modes of electronic and performance media. He is always eager to collaborate on meaningful projects, whether as an educator, activist, skills developer, writer, performer, traveler, or innovator.
Robert Farrow is a Research Fellow in the Institute of Educational Technology at The Open University (OU) and a Fellow of the Higher Education Academy. By training he is a philosopher (analytic & continental) and educational technologist. His main research focus is open education. He leads several research strands with the Open Education Research Hub where since 2012 there has been a focus on providing an evidence base for the impact of OER and building research capacity globally. His current research interests are in the use and evaluation of technology systems for learning and behavioural change; theoretical frameworks for learning and innovation; ethics; technology as a route to social justice; and generally in empowering people. Rob support doctoral students worldwide who are working in the field of open education through the Global OER Graduate Network and is also a mentor for the Open Education Leadership Program (SPARC).