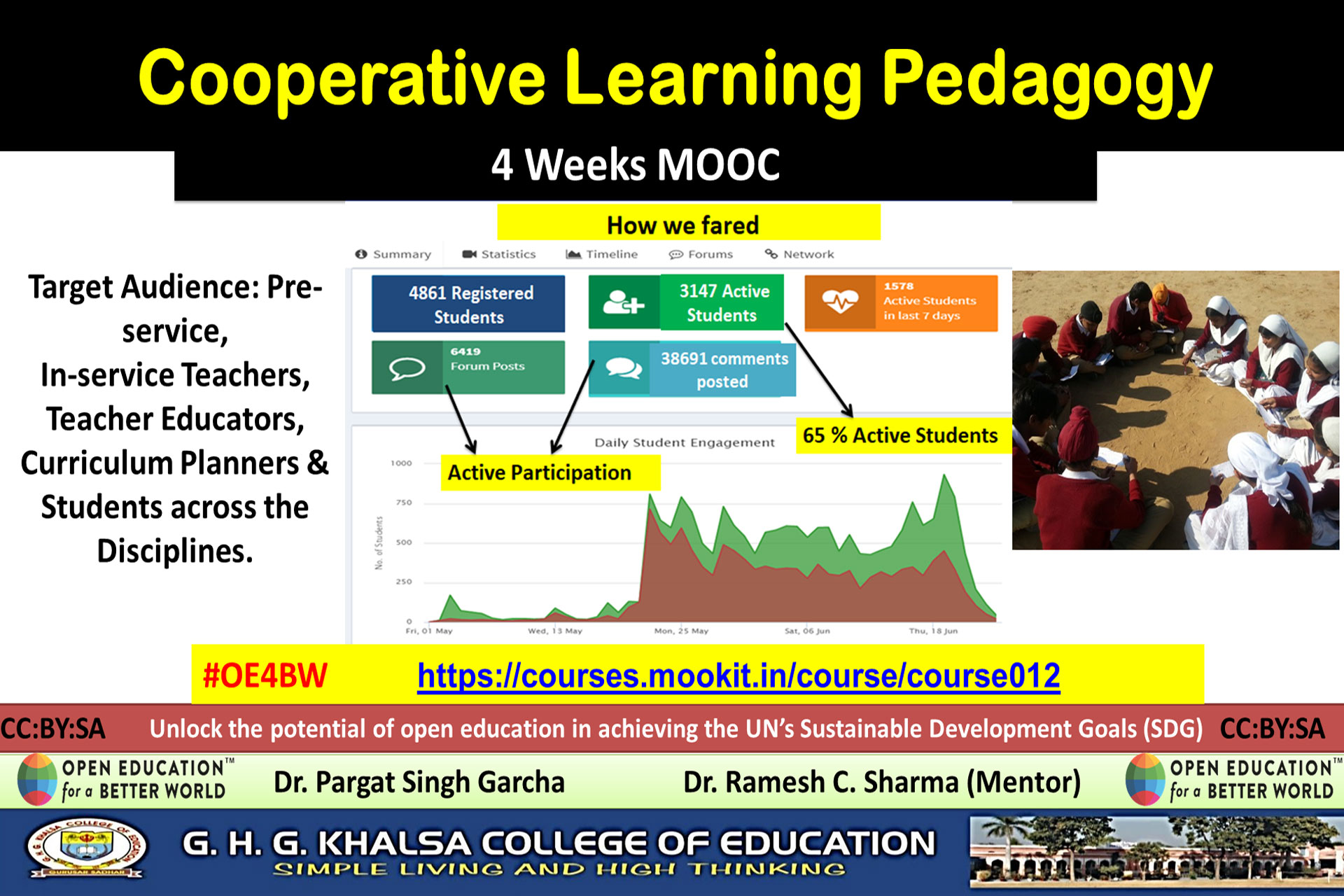 Cooperative Learning Strategies as a
Learner Centered Pedagogy: An Approach towards Quality Education
This project aims at promoting the use of cooperative learning for quality education at school, college & university level. A four week course will be developed. As we know that Cooperative learning (CL) has been described as one of the most widely investigated educational approaches (Slavin, 1996). Hundreds of studies have cited its benefits in real classrooms across the nations in different subjects. National Curriculum Framework-Teacher Education (NCFTE) 2009 has rightly emphasized that Education is neither a mechanical activity of information transmission and nor the teachers are mere information dispensers. Teachers need to be looked at as crucial mediating agents through whom curriculum is transacted and knowledge is co-constructed along with learners. So role of a teacher needs to be as a facilitator of children's learning. Cooperative learning strategies are also providing structure in which students have an opportunity to raise logical questions, discuss the content with his peer group, and imitate higher order thinking, critical evaluation of idea, etc. in team work.
This project would focus on introduction of cooperative learning as learner centered pedagogy as new approach to quality education. Theoretical concept of cooperative learning, related terms and strategies will be discussed with the learners. Out of various strategies of cooperative learning, two main strategies Jigsaw and STAD will be discussed with learners along with its various steps of implementation. Advantages of both strategies will also be shared with the learners. After going through the course learners will be able to use these strategies in their classroom. Learned material can be integrated in teaching-learning process and make learning more practical and enjoyable.
The course will be divided into 4 modules which will be completed in 4 weeks. The course will be developed in English language. Platform for the open course will be decided under the guidance of mentor.
After the competition of this course learners will be able to:
1. Explain the concept of Cooperative learning
2. Enlist characteristics of cooperative learning
3. Explain various elements of cooperative learning
4. Differentiate between Cooperative learning, Collaborative learning and Group work
5. Enlist various strategies of cooperative learning
6. Discuss various pre requisites to use cooperative learning strategies in classroom
7. Define Jigsaw strategy of cooperative learning
8. Discuss steps of Jigsaw strategy of cooperative learning in detail.
9. Explain the main advantages of Jigsaw strategy of cooperative learning in detail.
10. Define STAD strategy of cooperative learning
11. Discuss steps of STAD strategy of cooperative learning in detail.
12. Explain the main advantages of STAD strategy of cooperative learning in detail.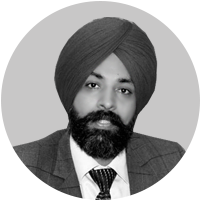 Pargat Singh Garcha
Dr. Pargat Singh Garcha is an Assistant Professor in GHG Khalsa College of Education, Gurusar Sudhar-Punjab (Grant in Aid, PG College, Accredited by NAAC with 'A' Grade). He has over 14 years of experience in teaching and research. He has master's degree in Economics & Educational Technology from Panjab University Chandigarh, PG degree in Psychology from IGNOU and Doctorate in Education from Panjab University, Chandigarh. His specialization is in Cooperative Learning & Educational Technology. He has attended certificate courses, conferences and workshops on online teaching & learning, OER & Moocs. He is working on minor research project funded by UGC. He had also been a consultant for curriculum framework for diploma course of Apeejay Satya University. He is Member Academic Council (2018-20), Panjab University Chandigarh. He is also working as Secretary of Pb. & Chd. chapter of Council for Teacher Education (CTEF).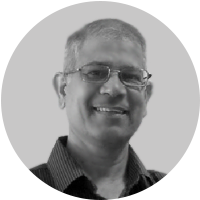 Ramesh Sharma
Dr Ramesh Sharma is an OER brand ambassador for OER Foundation, New Zealand. He teaches Instructional Design at Ambedkar University Delhi, India. Earlier he has taught Educational Technology and Learning Resources at Wawasan Open University, Malaysia. He is an expert in open and distance and technology mediated learning and has served as a visiting Professor at Universidade do Estado da Bahia, UNEB, Salvador, Bahia, Brazil, visiting Professor at University of Fiji, Fiji, Commonwealth of Learning as Director of the Commonwealth Educational Media Centre for Asia, New Delhi, Regional Director of Indira Gandhi National Open University, India and Director of Distance Education at University of Guyana, Guyana, South America. He had been a member of Advisory Group on Human Resources Development for the United Nations Conference on Trade and Development (UNCTAD). While at University of Guyana he also collaborated with UNDP for its Enhanced Public Trust, Security and Inclusion (EPTSI) project, Volunteer Service Overseas (VSO) and United Nations Volunteer (UNV) to develop suitable educational opportunities for communities and youth. He is editing Asian Journal of Distance Education since 2003 and has been associated with several other peer reviewed journals including SSCI / SCOPUS Journals as Reviewer, Editor and Editorial Advisory Board member in the field of Open and Distance Learning. An author/editor of several books and research papers on educational technology, educational multimedia and eLearning, Dr. Sharma is a practitioner promoting Open Educational Resources (OER). He has been a trainer and capacity builder in the field of educational technology, and has supervised doctoral research in the field. He has conducted workshops and evaluation activities for IGNOU, CEMCA, COL, UNCTAD, and Aga Khan Foundation, amongst others.