Different modes of transportation – modes of transport suitable according to the topography of a region – road safety – environment hazards associated with transportation – connection of transport with sustainable development.
Satwant Balse
Satwant Balse, Ph.D. is an Assistant Professor of History, Coordinator of Foundation Course – an interdisciplinary paper and convener of Women's Development Cell at V.G. Vaze College, Mumbai affiliated to University of Mumbai, India. She is a Member, Board of Studies for Foundation Course, University of Mumbai. She also has M.Phil and MBA degrees. Her 30 years of career combines academic, co – curricular and extra – curricular activities. A mentor to her students she guides academic projects for about 450 students per semester every year. In academic circles she has paper presentations and publications to her credit. Her area of interest are – Urban Studies, Transport History, Modern India, Transnational studies, Sustainable Development, Archaeology, Museology and Punjab Studies. Her appointment as Programme Officer for National Service Scheme, a student voluntary organization of Government of India made her passionate about inclusiveness and sustainability as core components for creating a better world.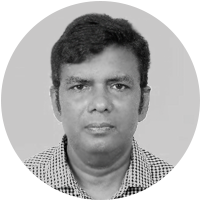 Mostafa Azad Kamal
Professor Mostafa Azad Kamal is presently working at Bangladesh Open University as the Dean of the School of Business. He is a Professor in International and Development Economics. He has been engaged in open and distance learning for last 22 years. He is currently working as a member of the International Academic Board for Commonwealth Executive MBA and MPA programs, Commonwealth of Learning, Vancouver, Canada. He is also a part-time consultant of Commonwealth of Learning for TEL, ODL and OER. Professor Mostafa is a Creative Commons (CC) Certified trainer on OER and Open Licences. He is also a Creative Commons Fellow for Open leadership. Professor Mostafa is the Country Representative for Creative Commons Bangladesh Chapter and also the member of the 15-member central Membership Committee of Creative Commons, USA. He is the President of the Centre for Open Knowledge (COK), Bangladesh. Professor Mostafa got experience in coordinating, supporting and evaluating a number of international and national projects relating to eLearning, OER, ODL and quality assurance in higher education.